FEMALE SECURITY OFFICERS/ FEMALE BOUNCERS

Denetim has trained female security officers for requirements in :-
1) Corporates
2) Shopping Malls
3) Hotel Entrances
4) Events and Functions
5) Women's Hostel
6) Women's College
7) Associate Hospitality Officer – Women Security in Luxury Hotels
8) Female Security officers / Female Bouncers escorting female staff after work.
9) Marriage Security
10) Family Security

WE DO NOT PROVIDE UNTRAINED LADY SECURITY STAFF,
THE AVERAGE AGE OF FEMALE SECURITY WILL BE BETWEEN 30-45 YEARS AND

WILL HAVE MORE THAN 5-7 YEARS EXPERIENCE OF SECURITY DUTY.
There is special care taken for important aspects of lady security guards such as uniform, work responsibilities, background, previous experience
The female security guards are given special training and again assessed for on the job performance. All duties performed by the guards  are examined verified and improved on time to time basis.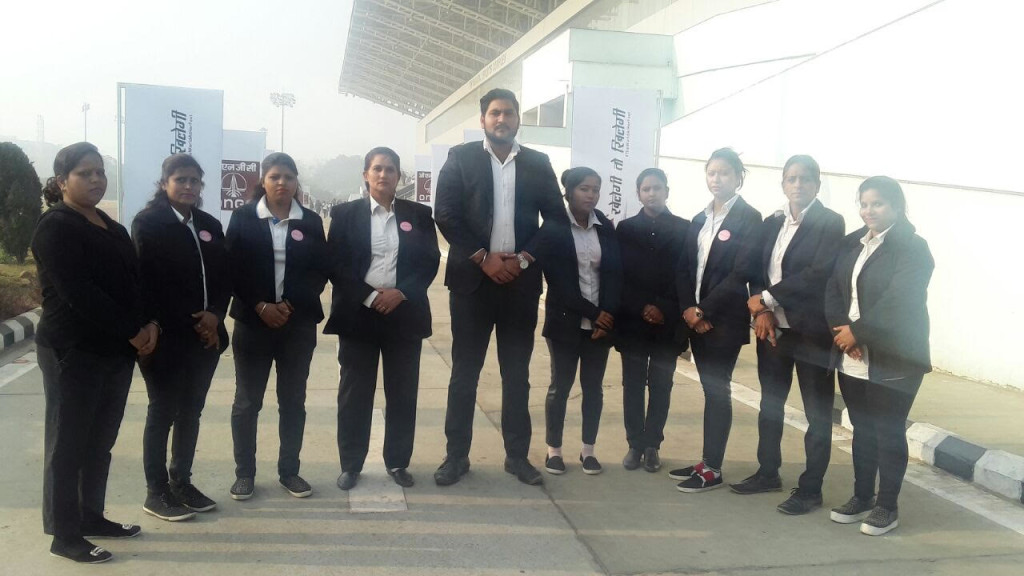 We only hire guards that can handle their duty with skill and can be verified through police.
Whenever dealing with women clients any corporate or shopping mall owner will always try to maintain a decorum and follow the possible guidelines. Denetim understands this and provides trained women security guards. Safety is a very important concern and dealing during frisking can be troublesome and fruitless when done incorrectly. Nowadays security agencies in Delhi and Gurgaon depute untrained female security guards and security officers. This is a situation when it can become unsafe for the client and the team of people visiting the place. Duties performed by trained and legal educated female security guards that are also supervised by female security officers creates a sense of balance. Many security guard companies in Delhi and Gurgaon do not managed staff and will only hire female security guards as and when a request arises. Denetim makes extra effort in recruiting and the recruiting process is continuous , we keep shortlisting our female security officers and security guards for deployment at various locations and we always keep extra female security officers for rotation and immediate requirement.
Lady Security Officers or Female Bouncers are typically given security service protection for the following:-
Events
Marriage Security
Child protection
Divorce protection
Protection for teenagers visiting events – late night parties
Corporate employee office to home protection
Late night corporate office protection
Flight pick ups and drops
Celebrity Protection
LADY SECURITY OFFICERS for protection of WOMEN in Delhi NCR, Mumbai and other parts of India.

Many times we feel that the unsafe environment for women in Delhi requires some extra protection for women at night and even during day.
In today's time more young girls are going on night outs, clubs and other such night events. Delhi, Gurgaon, Noida and other big cities of India specifically and surrounding areas are not considered safe for women because of porous borders, different police reporting and different courts provides criminals to run loose. Any person who commits such crimes changes his state and hides is villages.
Women who travel for work or for travel anywhere in India at night are hiring female security officers / female bouncers for protection and safety, during travel and even when traveling from Office to Home in an office cab.
Women, Girls and their families will feel much safe and fearless in case they are accompanies with a Lady Security officer who is trained and provides security to the women wherever they go.
Such Lady Security officer will accompany your loved one i. e child/sister/mother/senior citizen at any event they are attending, detect and always deter any threat that could or can happen.
Lady Security officers / Women bouncers provided by Denetim have been specially trained and educated in handling various emergency situations.
All Female / Lady Security Officers know how to handle, operate and manage arms. We have licensed armed Lady Security officers available as well.
Female Security is also being hired to drop and pick female corporate staff to have additional protection for their employees.
Denetim Security officers follow a strict dress code and etiquette which ensure uniformed and has always been respected by clients all throughout.
The field of women safety is a very important subject specially in this crime ridden Delhi. We therefore request you to call us -+91-9910195928 anytime or contact us by filling a form and we shall be able to address your requirements and concerns.
The specifically trained Bodyguards, PSOs, CPOs can handle any situation For more details please visit our Frequently asked Question Section

Please feel free to contact us – also please visit our client reviews on TESTIMONIALS

For pictures of our work visit – NEWS
For unarmed Security – visit Bouncers
For Female Bouncers working at event security visit – Event Security India
For hiring Sniffer dogs please – Click Here