SEERAT GUPTA , B.COM (H) , SRRC COLLEGE, PRESIDENT SRCC STUDENT ASSOCIATION -2013-14
"The security provided at our annual festival Crossroads by Denetim Services was amazing. The bouncers were professional in dealing with all the happenings of the event. The centralized control of the team was commendable. The head of security team Mr. Surendra showed full commitment. We got the benefit of professionalism with limited cost. I am really thankful to the entire team of Denetim Services."
One of the most prestigious colleges in India – Shri Ram College of Commerce – Delhi University has Crossroads festival from 6th to 9th March 2014.
With Celebrities and more than 15,000 Delhi university students attending the festival, the event requires quality security. Denetim Services has organized quality Bouncers and Personal Security Officers for protection at the four gates, around the stage and all around the college to have a quality event without any hurdles.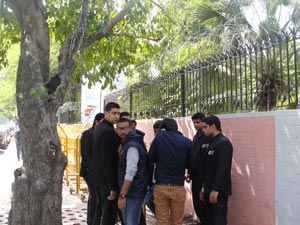 Denetim Services has taken complete control of the event security for SRCC which attracts students from all corners of Delhi NCR. The university campus in North Delhi already has thousands of outstation students living in and around the college.
Organizing such an event requires Denetim to recruit and specially train the security officers and Bouncers on how to handle various situations which need particular attention.
With Four gates requiring bouncers, Personal security officers (PSOs) , we needed to balance the requirement with utmost care as every gate was assigned keeping in mind the nature of entrants and the timings of operation.
Please visit Bouncers for Hire for more details